Services

Brake Pads and Rotors
Brake Pads and Rotors
Brake Replacement | Grand Island, NE
Need new Brake Pads, Brake Rotors or a Complete Brake Replacement?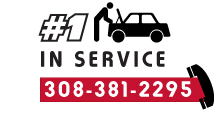 Brake Pads and Brake Rotors are both parts of your car that you cannot take chances with. Problems associated with brakes should not be ignored. Don't wait until after an accident to get a necessary brake replacement.
How Brake Rotors and Brake Pads Work Together
Brake rotors and brake pads working together are the most important part of your brake that helps in stopping the vehicle. The brake pads grab onto the brake rotor to stop the car. When you step on the brake pedal inside the car, brake fluid is sent to the brake calipers causing hydraulic pressure to squeeze the brake rotor in between the brake pads. When both parts of the team are in good condition, you have optimum performance. If one part of the team, (maybe the rotors), become warped or distressed, it can cause damage to your brake system. More importantly, it can cause a safety issue due to loss of control and full stopping power by causing the anti-lock braking system to not work correctly. If the rotor surface is warped, the brake pads will pulsate inside the caliper as they come in contact with this high spot. The pulsating will cause the wheel to shimmy or vibrate, and this vibration can be felt inside the car in the steering wheel.
Why Choose Gary's Quality Automotive for Brake Replacement:

ASE Certified
AAA Approved Auto Repair Shop
When you bring your vehicles to Gary's Quality Automotive, their trained auto mechanics will include an inspection of the condition of the brake rotors and brake pads as part of the full brake inspection. Their mechanics are qualified and have the necessary equipment to perform a brake replacement service.
Customer Reviews
92%
of customers would refer
us to their friends & family.
25 Reviews - View More Reviews
- 77 days ago -

Quality repairs and service!

Robie W (Redwood City, CA) AAA towed my car to Gary's after I broke down on I80 traveling from Buffalo, NY to California. I can...

[Manual / Automatic Transmission Repairs]
September 18th 2013

- 87 days ago -

Excellent service as always

Phil H (Grand Island, NE) Gary's is a great place to do business. We have been doing business with Gary's for over 10 years, and...

[Complete / General Auto Care]
September 08th 2013

- 104 days ago -

Best of the Best

Anonymous (Bartlett, NE) The employees of Gary's Auto are very professional and friendly. They keep you advised as to what is going on...

[Oil Change / Lube]
August 22nd 2013