Need Quality Oil Change Service?
Why not come to Gary's Quality Automotive for your next oil change? As you know, an oil change for your vehicle is a necessity, and most owner's manuals recommend an oil change at least every 7,500 miles. Your car's engine puts extreme pressure on the oil, and eventually the oil loses its lubricant qualities. When that happens, the oil can't cool, clean or lubricate the engine's components.
If you wait too long between each oil change, you will substantially reduce the life span of your vehicle's engine. By looking at it this way, you will agree that our oil change coupons are much more affordable than a complete engine rebuild.
Why Choose Gary's Quality Automotive for your next Oil Change:

ASE Certified
AAA Approved Auto Repair Shop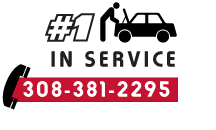 At Gary's Quality Automotive, we offer hassle-free appointments and very affordable prices on all of your vehicle's oil changing needs. Our services include:
Conventional Oil Changes
High Mileage Oil Changes
Truck/SUV/Minivan Oil Changes
Synthetic Oil Changes
Quick & Convenient Oil Changes
Bring your vehicle to Gary's Quality Automotive today for a premium oil change service by mechanics you can depend on, and one that you can afford with our oil change coupons! Call today to schedule your next oil change.